The Department of Fire and Emergency Services (DFES) Corporate Executive Team is comprised of the following members: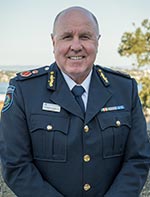 Commissioner Darren Klemm AFSM
Fire and Emergency Services Commissioner
Commissioner Darren Klemm AFSM has more than 29 years of experience in fire and emergency services, having served three years with the South Australian Metropolitan Fire Service before joining the WA Fire Brigades Board in 1993.
Commissioner Klemm has been one of Western Australia's rising stars in public administration and management, since joining the Fire Brigades' Board in 1993.
Since becoming the Commissioner, the Department has experienced transformation in operations that have strengthened community centred service delivery and its connection and respect for volunteers.
Commissioner Klemm has successfully reformed the agency to create a Rural Fire Division that decentralises and improves bushfire management. He has been the driving force behind unprecedented investment in mitigation, improved relationships with volunteers and stakeholders, and greater interagency collaboration.
In 2017, Commissioner Klemm was invited by the Premier of Western Australia to be a member of the inaugural Public Sector Leadership Council to drive reform across the public sector. In June 2019, he was awarded the Leader of the Year Award by the Institute of Public Administration Australia.
Commissioner Klemm is the DFES 'Male Champion of Change', a role he has held since the inception of the Fire and Emergency Services Male Champions of Change group in April 2017.
The group includes Chief Executives and Commissioners who lead 30+ agencies responsible for fire, emergency and land management services across Australia and New Zealand. Their objective is to advance gender equity, inclusive cultures and achieve significant and sustainable improvements in the representation of women at all organisational levels throughout their workplaces and volunteer organisations.
He has been involved in strategic operations at State and Incident Controller level during significant emergencies such as the Waroona, O'Sullivan and Toodyay bushfires and Tropical Cyclones Olwyn and Veronica.
Commissioner Klemm is a member of a number of national committees concerned with emergency management in Australia, and holds a Graduate Certificate in Management from the Australian Institute of Management.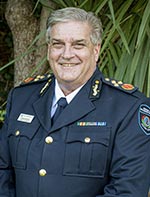 Deputy Commissioner Craig Waters AFSM
Operations Command
Deputy Commissioner Operations Craig Waters has over 25 years' experience with emergency services, joining the fire service in 1993, where he graduated as Dux of recruit firefighter school 39.
He is responsible for all operational matters across DFES including firefighting, natural hazards, marine services, aviation, special operations and state operations.
Deputy Commissioner Waters is a certified Level 3 Incident Controller, and has overseen many complex, large scale emergencies spanning from major structure fires, cyclones and numerous bushfires including Parkerville, Bullsbrook, Northcliffe, Esperance and Waroona.
He was promoted to the rank of District Officer in 2010, and managed DFES's Fire Investigation and Analysis Unit, where he holds a Graduate Certificate and Diploma in Fire Investigation.
In 2006, Craig spent 12 months working at the WA Police Counter Terrorism Coordination unit to assist with a major National Investigation and Consequence
Management exercise.
Craig was promoted to Superintendent in 2013 and Chief Superintendent in 2016, undertaking roles within Metropolitan and Country operations and at the WA Fire and Emergency Services Academy.
Craig's most recent role was Assistant Commissioner Operations Capability where he managed Air Operations, Marine Services, State Operations and Special Operations.
Deputy Commissioner Melissa Pexton
Strategy and Emergency Management Command
Deputy Commissioner Melissa Pexton has 20 years' experience in the emergency management sector at a national, state and local level. She was appointed Deputy Commissioner Strategy and Emergency Management in May 2022.
Ms Pexton has served as the Cyclone Seroja State Recovery Controller since April 2021 providing leadership to a whole-of-government recovery operation and was previously Director Risk, Capability and Analysis at DFES.
She was also the Deputy Chair of the State Emergency Management Committee (SEMC) and has held positions of Executive Officer and Chair of the SEMC Recovery and Community Engagement subcommittee.
Previous to her roles at DFES, Ms Pexton was the Manager Emergency Management for the Western Australian Local Government Association (WALGA), an independent, membership-based group representing and supporting the work and interests of Local Governments state-wide.
Ms Pexton held positions with Emergency Management Western Australia (EMWA) as Principal Policy and Planning Officer and Manager Community Emergency Management Services overseeing the WANDRRA, NDRP, AWARE and regional staff.
Ms Pexton commenced her career in emergency management at the Fire and Emergency Services Authority (FESA) working with communities, emergency service volunteers and staff, alongside local governments to build resilience and understanding of the impacts of natural hazards in the community.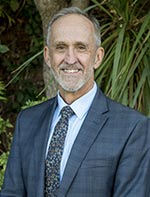 Mr Richard Burnell, MBA, BBus
Executive Director, Corporate Services Command
Mr Burnell commenced at DFES in September 2015 as Director Information and Communications Technology (ICT), before taking on the role of Executive Director.
He has over 40 years of experience in accounting and finance, commercial management, business re-organisation and change management, business process re-engineering, cost management and project delivery of enterprise-wide programs, from a range of private sector industries in Australia and overseas.
During his tenure in the fire and emergency services environment, Mr Burnell has managed complex and wide ranging ICT reform to ensure DFES' information and communications systems and services meet business needs, leveraging off the Government's Digital Transformation strategy and services.
In 2017, through Mr Burnell's leadership, the Computer Aided Dispatch project team won a prestigious 'OpenGov Recognition of Excellence Award' which recognised the innovative inter-Agency collaborative approach to project delivery.
Mr Burnell holds an MBA qualification from the University of New England (NSW) and a Bachelor of Business from WA Institute of Technology (now Curtin University).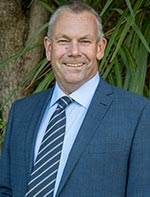 Mr Murray Carter
Executive Director, Rural Fire Division
Murray Carter has dedicated much of his life to combatting bushfire risk in Western Australia. Starting out as a 17 year old cadet with the then Forests Department, he spent thirteen years with CALM conducting prescribed burns and fighting large scale bushfires in country WA.
Mr Carter then took on the role of CEO for Lord Howe Island, leading marine and land management, before returning to WA and working in policy positions with the State Government. He dedicated five years to the role of Fire Manager for the then Department of Parks and Wildlife, and more than three years as Director of the Office of Bushfire Risk Management (OBRM) leading key reforms in rural fire management at the Department of Fire and Emergency Services.
The current Chair of the Australasian Fire and Emergency Services Authorities Council (AFAC) Rural and Land Management Group, Mr Carter is also a member of the National Forest Fire Management Group, is on the Board of Directors of the International Association of Wildland Fire (IAWF), and is the current (inaugural) Chair of the WA State Bushfire Coordinating Committee.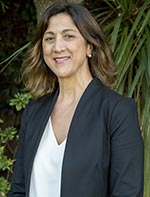 Ms Georgina Camarda BCom
Chief Finance Officer
Ms Camarda commenced at DFES in October 2012 taking up the dual role of Director of Business Services and Chief Finance Officer.
Ms Camarda has over 23 years' experience in financial management. She has 17 years' experience with the Office of the Auditor General specialising in Assurance Services and undertook a 12 month secondment to the Office of the Auditor General of British Columbia in 2011-12. Prior to this she worked with the National Australia Bank in Perth and has completed 12 months of service with the Australian Army Reserve.
Ms Camarda has a broad range of knowledge with respect to accounting, auditing, regulatory and statutory reporting requirements, in particular in the context of the WA public sector and specifically the emergency management sector.
Ms Camarda's Special Commendation for the WA's Institute of Public Administration Australia Finance Practitioner of the Year in 2018 is recognition of her commitment to her profession and technical expertise.
Ms Camarda holds a Bachelor of Commerce from the University of Western Australia and is a Certified Practising Accountant.